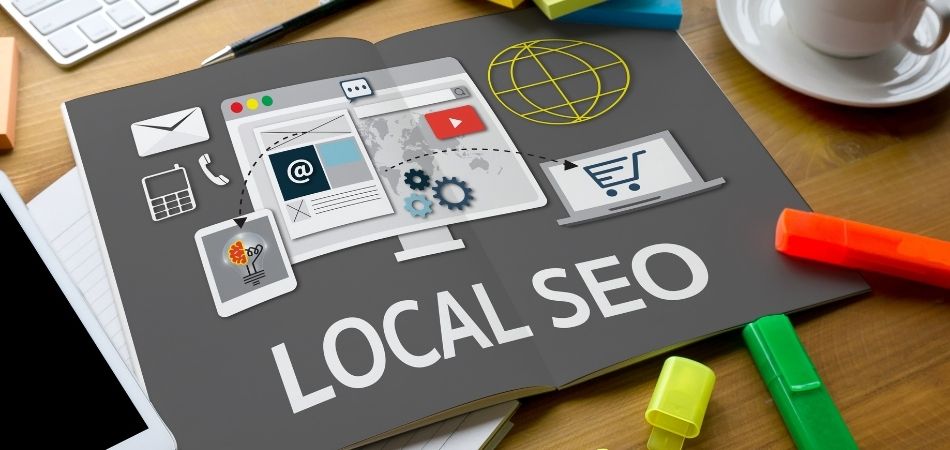 Learn About Local SEO for Law Firms.
Why You Need a Google My Business Listing.
Your law firm is categorized as a local business by Google. Local businesses with a physical office location have several more options and advantages for marketing their business. One advantage as a local business you are able to claim and verify your free Google My Business Listing.
A Google My Business listing is very similar to a Facebook Business Page. The added benefit of the literally putting your law firm on the (Google) map.
A popular search phrase "lawyer near me" will provide optimized Google My Business listings directly in Google search result pages that display your business location pinned on the Map along with Business Name, Address, Phone (NAP) with photos, posts, hours of operation, client reviews and Q&A section and more.
All of these give your law firm a way to populate your business directly in search result pages of targeted keyword phrases.
The bad news. Google's strategy is to keep people on search engine result pages and not clicking away to your website. They are creating more and more features that accomplish this plan. If you don't claim and utilize a free Google My Business listing your competitors will and they will reap the benefits of local searches for law firms.
Even though Google My Business listing is free it's best for your law firm to hire a professional. A (legitimate) professional enables you
to allocate your time in becoming a better lawyer not marketer.
they know what works due to dedication and trial and error.
Ability to integrate into a larger marketing and advertising strategy..
Is Google My Business Worth the Effort for Local SEO?
It takes very little effort to fill out your Google My Business listing. It is definitely worth "owning" your listing.
Local search keywords are very common especially with mobile. By optimizing your Google my business listing you have a much better chance of showing up for searches that have local intent. Google my business provides the hands-down best place to receive client reviews. Those REAL client reviews will push your listing up toward the top of local searches. Local searches include 
Near me,

In (city),

In (area),

Near a "landmark"
Can You Use Google Maps To Boost Local SEO?
Yes, you can by having a verified Google My Business listing. You can also increase your chances of being ranked higher and more often by receiving legitimate client reviews, having a complete profile, answering Q&A's, and updating your posts often.
Your Law Firm Business Profile Showing Up in Google Maps
The information that populates Google Maps is pulled directly from your Google My Business listing. If your law firm is not showing up on Google Maps you need to claim and verify your Google My Business listing.
Google Maps can be accessed through the app and through a specific Google Map search. Maps are also directly integrated in Google Search Engine Result Pages and are commonly called the local pack. Google Maps will be displayed when the searcher uses keywords that have local business intent.
Target keyword for local searches:
Lawyer
Attorney
Law firm
Law office
Attorney at law
Keyword modifiers:
Near me
by the courthouse
"city name"
"area name"
How To Manage a Law Firm Reviews?
Google My Business is the absolute best place to ask clients to leave your law firm a review. Your law firm will benefit from having many 5 star reviews. You want to respond to all reviews negative and positive quickly.
Tips for a Negative Review
Try not to respond in a personal or defensive way. Address the problem with a professional and courteous tone and offer a solution. You are not only responding to the reviewer but future clients will see your response. People can be more interested in your response to negative reviews. It's more likely a negative review will not be a fake review. If you handle the review well you can build goodwill with potential future clients. Everyone knows mistakes will be made but how you respond makes the difference.
Optimizing Your Google My Business.
Optimizing your Google My Business is where the step by step instructions end. Experience through trial and error experiments puts you at advantage over your competition.
Photos can be uploaded by your law firm and the public. GMB allows you to add photos of the inside and outside of your business. You can posts photos of your "team" there as well.
Services allow you to add categories that fit your business. This helps Google define your law firms' services and put your law firm in front of the right searchers at the right time.
Posts are a great addition to your Google My Business. Posts allow you to directly control at least some information that shows up in Google Search Result Pages for your law firm.
The Q&A section allows the public to submit a question to your business. You can answer the questions from your Google My Business. What's great about the Q&A section is the future pay off. The Q&A is there for potential clients in their vetting process to get a better understanding of your law firm's brand and personality.
How To Create a Google My Business Account.
Google has provided step by step instructions for setting up your Google My Business Account.
If you need help with your law firm marketing.
Contact me with the form below.