Digital Marketing Strategies for Law Firms: A Comprehensive Guide
How to Market Your Law Firm and Attract More Clients Online
As the legal industry becomes increasingly competitive, law firms need to adopt effective marketing strategies to stand out in the digital landscape. While traditional marketing techniques such as word-of-mouth referrals and print ads may still hold value, digital marketing is quickly becoming a necessity for law firms of all sizes.
In this article, we'll discuss the various digital marketing techniques that law firms can use to attract more clients and grow their business. We'll cover everything from website design to search engine optimization (SEO) and social media marketing. We'll also provide relevant examples and case studies to help illustrate the effectiveness of each strategy.
We recommend bookmarking this page for easy reference as you work on building your website.
1. Website Design and Optimization
Your law firm's website is often the first point of contact between you and potential clients. It's crucial that your website is both visually appealing and easy to navigate. A poorly designed website can deter potential clients from contacting your firm.
It takes many years of practice to become proficient at building websites. One of the reasons is that a high performing website has just as much to do with what's behind the scenes as what's shown to the visitors. To get the most of your website I've listed a few critical features below but website design is so much more. If you want to learn in depth information about website design including fonts, color, spacing, elements, page speed, headings, etc check out my website design for law firms guide. 
To ensure your website is optimized for both users and search engines, consider the following:
Keep your website design simple and clean.

Ensure your website is mobile-friendly.

Use high-quality images and videos to enhance your website's visual appeal.

Optimize your website's speed to reduce bounce rates.

Implement clear and concise calls-to-action (CTAs) on each page.

Use relevant keywords in your website's copy to improve SEO.
2. Search Engine Optimization (SEO)
SEO is the process of optimizing your website's content to rank higher in search engine results pages (SERPs). Higher rankings can lead to increased visibility, traffic, and ultimately, more clients.
The more competitive your local market is the more difficult it will be to out rank your competitors. That doesn't mean it's impossible it might take a little more time and focus though. The more competitive your market and practice areas the more effort will be needed to make sure you rank for the right keywords that drive potential clients to your website and convert to leads.
I've highlighted some basic SEO ranking factors below but depending on the objective there can be hundreds of ranking factors.
If you to learn all about SEO for law firms visit my comprehensive SEO GUIDE.
To improve your law firm's SEO, consider the following:
Conduct keyword research to identify high-value keywords for your business.

Optimize your website's meta tags (title tags, meta descriptions, etc.).

Create high-quality, informative content that targets your desired audience.

Create content worthy of high-quality backlinks to your website.

Ensure your website's structure is easy to crawl for search engines.
3. Social Media Marketing
Social media marketing is an effective way to increase brand awareness, engage with potential clients, and build a following for your law firm. To effectively use social media for your law firm, consider the following:
Social media marketing covers many different platforms with many variables involved. Each platform has their strengths and weaknesses. users also have specific mindsets depending on the platform check out my Social Media Marketing Guide to learn more in depth information.
Identify the social media platforms that are most relevant to your business and audience.

Create a social media content calendar to ensure consistent posting.

Use high-quality images and videos to enhance your social media posts.

Engage with your followers by responding to comments and direct messages.

Consider using social media advertising to reach a wider audience.
4. Case Study: The Watt Law Firm
To illustrate the effectiveness of digital marketing for law firms, let's consider a case study.
I started working with The Watt Law Firm in 2014. At that time the website was only up for a few months and not ranking on Googles page for any keywords. I worked with Greg Watt to build proof of
Experience
Expertise
Authority
Trustworthiness
Over the years we've expanded on the key factors an he now ranks #1 or #2 for hundreds of variations of the most valuable keywords for a criminal defense law firm.
In the images below you can see where he is ranking for some of the keywords. If you want to see for yourself all you have to do is Google Best Criminal Defense Lawyer in Kansas City or any variation of those keywords. Greg Watt will rank in the top 3 and has done so since 2014.
I'd like to add ranking in Google is great but not all keywords are equal most keywords that are searched for a lot are only informational. The keywords The Watt Law Firm ranks most for are commercial or transactional intent. This means commercial (looking for a lawyer) or transaction (looking to hire a lawyer) are much more valuable than someone just looking for information.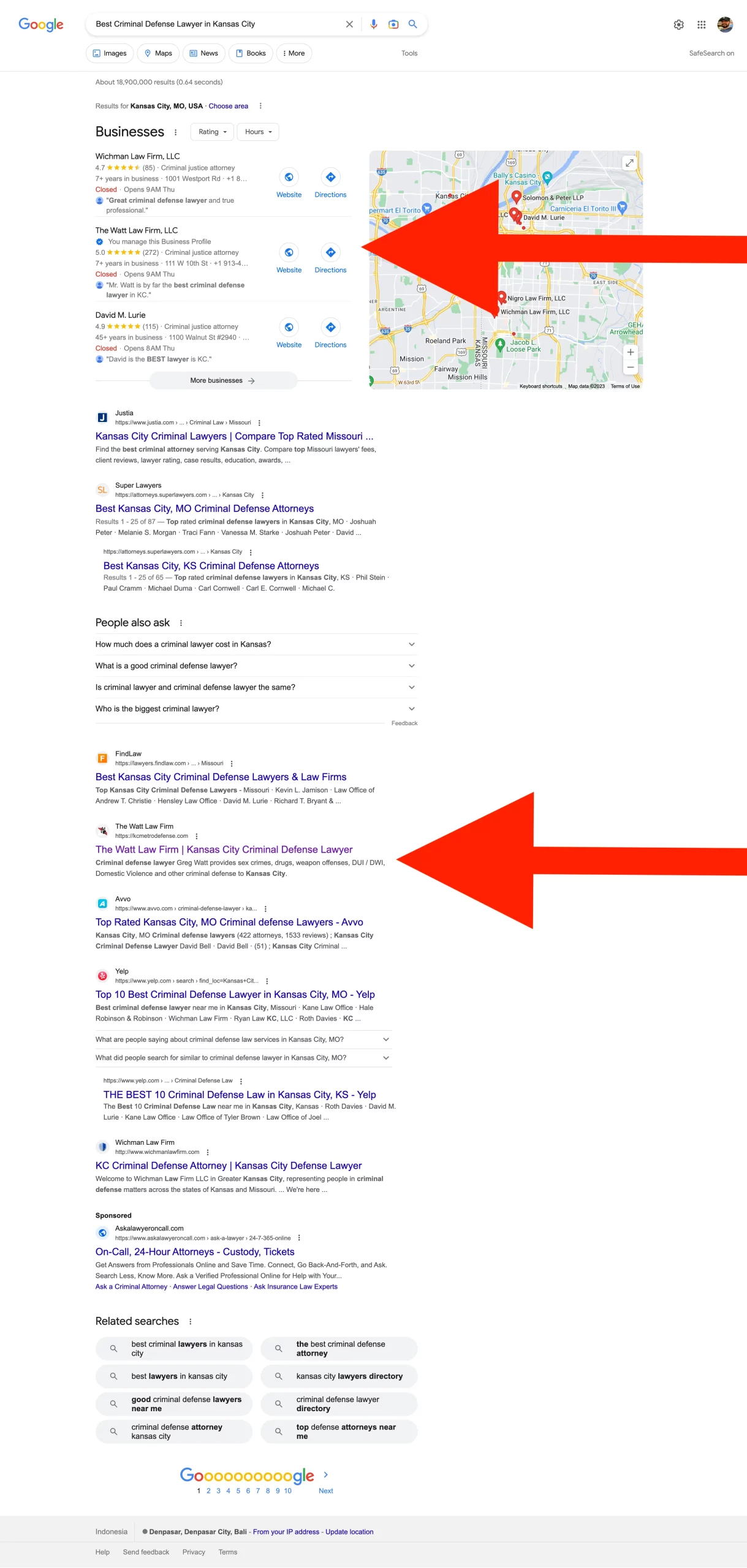 In today's digital age, law firms can't afford to neglect their online presence. By implementing effective digital marketing strategies, law firms can attract more clients, increase brand awareness, and grow their business. Remember to keep your website design simple and clean, optimize your website for SEO, and engage with potential clients through social media. And if you need help getting started, contact Chris Lancaster with the email form below to discuss your digital marketing needs.
Article Written By Chris Lancaster
Chris Lancaster is a seasoned digital marketing expert with a passion for helping law firms acquire and retain clients. He has been providing his expertise in this field since 2014, and he is committed to building long-term partnerships with the law firms he works with. In fact, he still works with his very first law firm client from 2014. On average, Chris has worked with law firms for an impressive 4.5 years. His portfolio of successful projects includes partnering with The Watt Law Firm, Rivera Law, LLC, Krupp Law Firm, and many others.
If you need help with your law firm marketing.
Contact me with the form below.